We got to chat with one of the creative forces behind Euphoria's immersive, transcendental festival experience.
Euphoria Music Festival is only a week away. Over the weekend (April 6-9th), festival goers from around the country will arrive in Austin, Texas for one of the south's premier music and camping festivals. The dedicated team behind Euphoria urges you to embrace the complete user experience, not just the stellar lineup. Their manifesto is centered around the idea that "We belong to a community who, through music, seek a deeper, richer, more inspired experience."
"We think about how people devour music, information, and new ideas and then go out into the world and plant the seeds of change."-Euphoria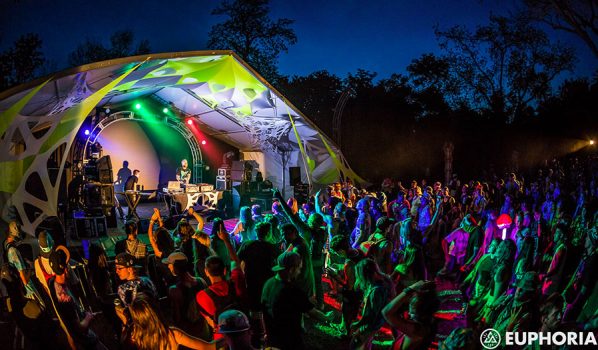 Art Seen Alliance is the art collective and event production company responsible for Art Outside camping festival experience based in Austin, Texas. This year, Art Scene Alliance was entrusted with complete creative control over one of Euphoria's most iconic stages, The Dragonfly Amphitheater. As pictured below, this fan-favorite stage sits along the Colorado River's beautiful landscape, lined with hammocks for friends and good vibes to enjoy the festival.
As music fills the air, activities like yoga classes and movie showings are offered at the Dragonfly throughout the day. Once the sun sets, it fully transforms into a celebration of electronic music, rave culture, and that Euphoria magic, with mesmerizing visuals projected across the river and onto the stage where countless musical powerhouses will perform throughout the weekend.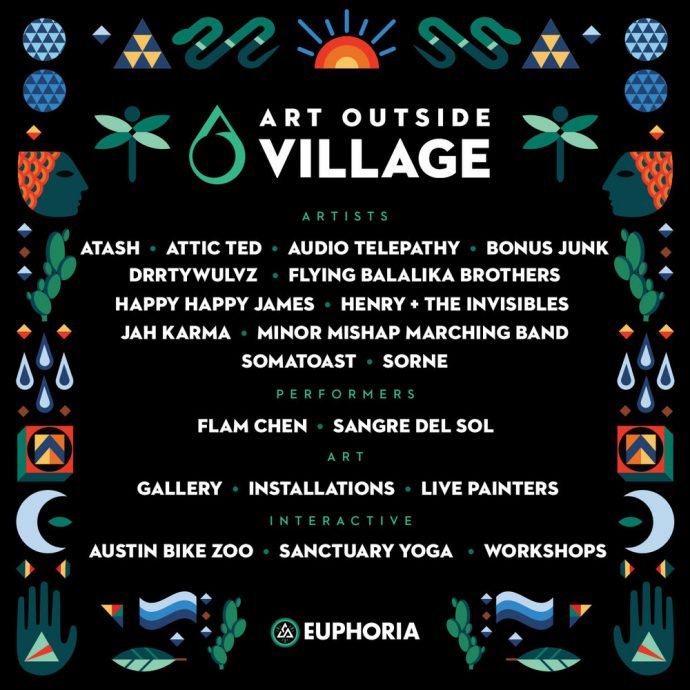 As a collaborative effort, Art Outside Village aims to provide the best stage design, event production, and creative touch possible for Euphoria 2017. Curated art installations, performances, and more can be found in the Village within the festival grounds.
Read our interview with Art Scene Alliance below…
From my understanding, you took on a larger role in 2016 with Euphoria Music Festival. What changed from previous years to 2016 that allowed you to take on that responsibility?
"Art Seen Alliance has actually been involved with the Euphoria Festival from the beginning. Our role has evolved as the festival has grown. We have helped them with production needs such as tents, stages, site operations, as well as creative direction such as on-site decor, art installations, and curating visual and performance artists."

The event's most iconic zone, the Dragonfly Stage, has gotten more intricate, more creative, and more technologically advanced every year. The projection across the river in 2015 was an amazing sight, and then in 2016, the projections on the actual stage were something else.
What can we expect in 2017?
"For 2017, we are working on enhancing the visuals and using more of the natural environment as a canvas. We plan to increase the amount of projection surface on the trees across the river to nearly double. We are also working on a custom fabric design that will extend over the audience."
You are best known for Art Outside (Day 1 was one of my favorite nights of 2015 despite the bad weather and the cancellations). What elements of Art Outside do you try to bring with you when you work on Euphoria?
"This year, we are actually partnering with Euphoria to create an area called The Art Outside Village, located in the space that past attendees will know as the "Silent Disco" area. The Art Outside Village will provide the "vibe" for which Art Outside is best known.
There will be several art installations, an art gallery, and workshops. The workshop programming will focus on wellness, sustainability, and creativity during the day, and during the evening, there will be music and theatrical performances, followed by a late-night silent disco. This area will be a departure from the main festival grounds, but it will definitely be a destination worth checking out."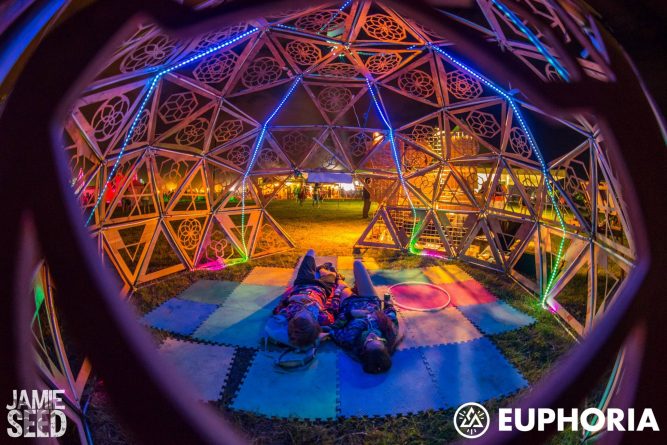 What excites the team most about being able to have complete creative control over the vision, design, and construction of the Dragonfly Stage Amphitheater?
"We are thankful that so many of our clients trust our creative vision and know that we can bring their ideas to life. Since we are a production company as well as a fabrication company, having license over the stage allows us to thoughtfully integrate all of the production elements–stage, sound, lights–with the projections and all of the scenic elements into a cohesive environment. We are excited that this stage has become such an iconic part of the festival and we look forward to this year's installation!"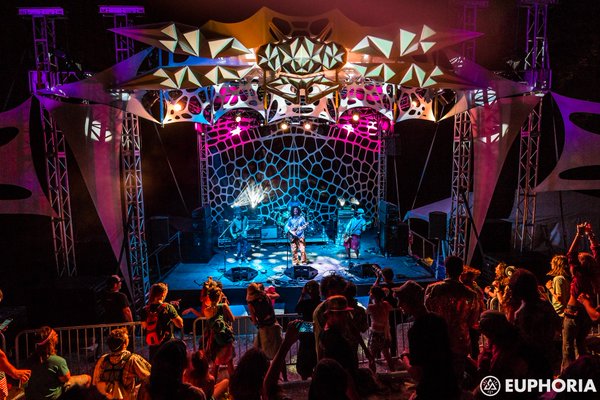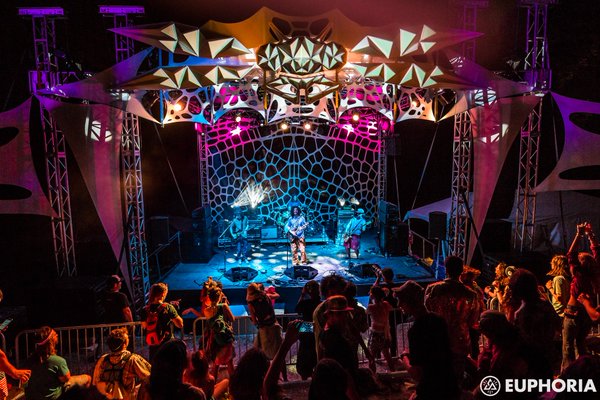 Everything you do from an artistic and operational standpoint seems to be centered around the user's experience. As a consumer, this makes a huge difference. Where did this mindset first begin and how has it grown over the years?
"Our entire team consists of artists that are active in the festival scene and art community. When we are working on a project, we are always thinking about the user experience as our primary focus. We enjoy creating artistic experiences that are fun for all ages and allow us to constantly bring art to the masses. We love what we do and that translates through our work."
Will you be attending Euphoria this year? Grab your tickets.
Tickets for the 3-day festival are still available here (including GA, Camping, & Single-day). Don't miss your chance to be a part of this weekend! And, be sure to stop by The Dragonfly Stage for the immersive experience and versatile production that sets Euphoria apart from the rest. Not to mention, the lineup is pretty spectacular…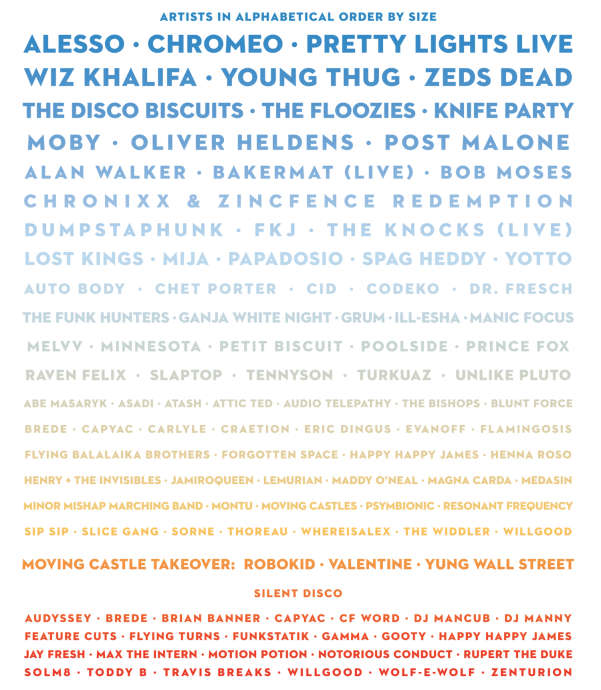 Images and media by Euphoria Music Festival.
Photo: Jamie Seed Photography