Baton Rouge is bringing the hip-hop HEAT with this unique inaugural event on Saturday, May 19th. The festival, held in Baton Rouge's beautiful Beauvoir Park, is a can't-miss event for those looking to immerse themselves in the local scene.
Patrons can attend over 10 sets spread across two stages. Performances include prominent local artists such as Michael Armstead and Adam Dollar$.
An ensemble performance featuring all members of Cult 45 close out the festival. The collective is comprised of Louisiana native hip-hop artists Olde Spanish, T Scar, Cobain, Tr3b and Gliese FA.
Festival attendees also have access to local food vendors, a bar, and bathrooms for the duration of the event. Other attractions include live painting, limbo, fireworks, piñatas and effigy burning. Overall, it will be an event you don't want to miss!
Cult 45 founder Olde Spanish hopes the festival will have a significant impact on Baton Rouge's relatively underdeveloped hip-hop scene.
"We're hoping to change the way music is presented in Baton Rouge," he said. "I'm hoping this thing will help expose underground artists and eventually become a national event that brings more revenue and attention to the city."
You can view the festival's full lineup below: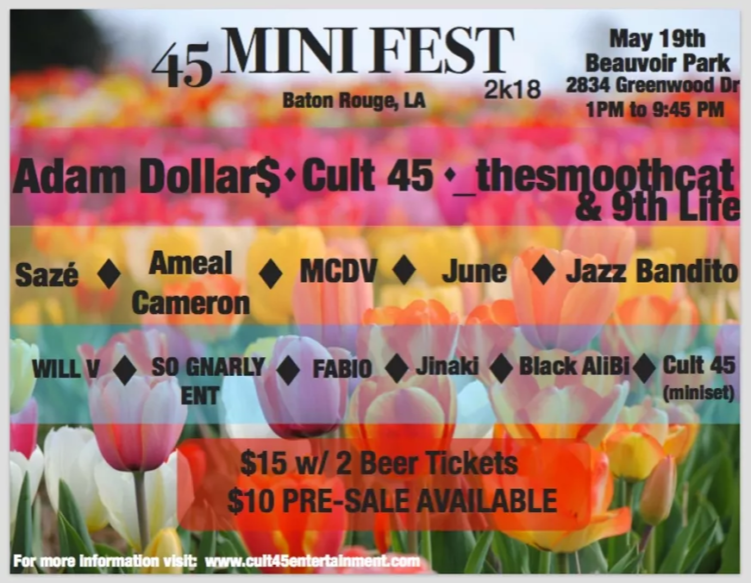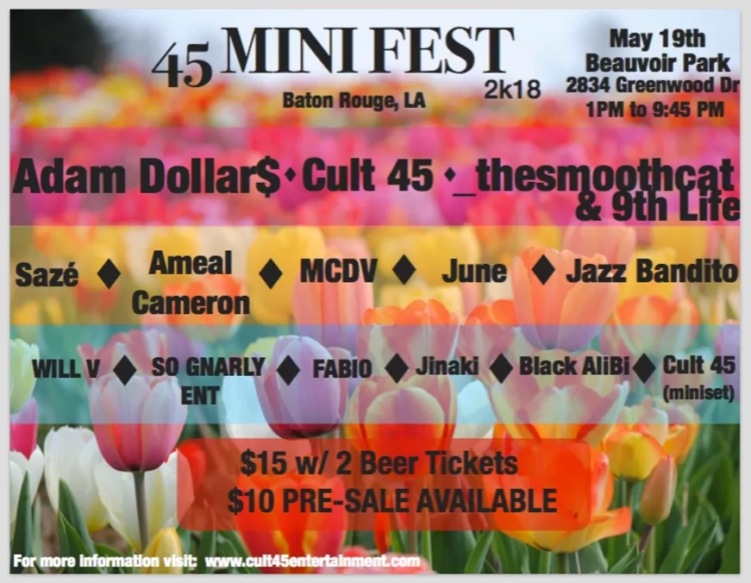 "Honestly, this festival represents everything we hope to achieve with hip-hop," Olde Spanish said. "To bring people of different backgrounds and ages together musically and socially is a special dynamic."
Purchase pre-sale tickets -only $10- here. Tickets include two beer tickets. Don't miss out before the price increases!
Featured image taken by Dillon Lowe (@d_lowe96).