The renowned Basscenter event is coming up on its tenth edition and it's clear that this year is going to be bigger than ever before. With three days to play with and a diverse but well-curated lineup of artists, Basscenter X is set to be one of the most immersive and detailed events of the season.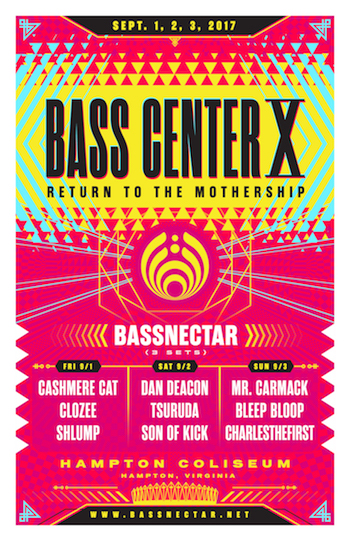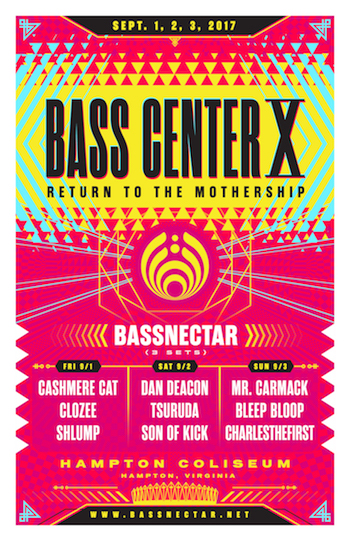 Bassnectar will be playing each night along with Cashmere Cat, CloZee, Shlump, Dan Deacon, Tsuruda, Son of Kick, Mr. Carmack, Bleep Bloop and CharlesTheFirst. The venue dubbed "The Mothership" A.K.A Hampton Coliseum is located in Hampton, Virginia. Already well known for his enveloping events, Bassnectar and his team will be going above and beyond this year. Special-event mainstays such as The Haven will be present, which features ambient DJs, yoga, and massage, free water and juice as well as a gift altar and a sanctuary chill-out space for those needing to escape the pandemonium. They will also be opening up more places to roam within The Mothership, offering up more integrated experiences with performers, art installations and beyond.
This year will also feature a new section of the event named "The Lot" which will be unveiled in Hampton. It is described as an enhanced gathering space outside the venue with renegade sound systems, a pop-up arts and crafts fair, guest performances and more. With a bit of tailgate vibe to it, this will certainly be a feature that connects attendees and allows them to curate their own experience within the event.
Due to limited space at the Hampton Coliseum and the well-known fact that these tickets sell out in record time, there will be a new approach to presale ticketing that will also help combat ticket scalpers.
All of the presale details can be located here
General tickets will go on sale Friday, March 17th at 12PM EST, Get tickets