Returning to the Atlanta music festival scene again this year is Shaky Beats music festival. The festival began in 2016 and grew quickly in a short amount of time. Shaky Beats brings huge droves of people from all over the south due to their well-diversified electronic music lineup.
Coming to Central Park on May 11-13, Shaky Beats is hosting a number of popular names ranging across the EDM board. The lineup includes more well-known acts like Marshmello, Zedd, and Kygo; however, the middle-tier lineup is stacked with established and diverse producers.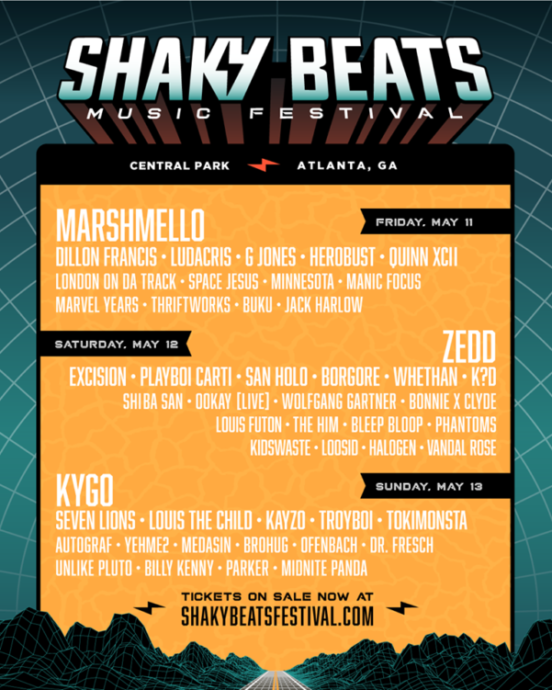 Since Shaky Beats is only a day festival, there are multiple things to do around the city before the fest actually opens its doors, plus plenty of after-parties once the doors have closed. 3-day tickets are still available for purchase and can be bought here, along with individual day passes for Friday, Saturday, and Sunday.
As an ATLien, you quickly come across brand new things to do weekly because the city is constantly changing with the recycling of people traveling in and out. Sharing some of these activities is a must, especially for those that will be traveling to Atlanta for either of these festivals. As someone visiting from out of town, this is a pretty good breakdown of what you should do in Atlanta, from someone who has (almost) done it all.
1. Explore the hipster area of Little 5 Points.
Little 5 Points is the holy grail of hippie/weird shops plus a good selection of food all in one area- including a restaurant with one of the largest beer menus in the city (The Porter). Right down the road is a restaurant with some of the best burgers in town (The Vortex). What's better than a burger and beer?
In the area are numerous vinyl record stores, thrift shops, and even a couple crystal shops. One of my favorite shops, Pyscho Sisters, conveniently has some hidden clothing pieces perfect for festivals – gypsy coin skirts, butterfly wings, outrageous wigs, everything! Psycho is my go-to for last minute festival shopping.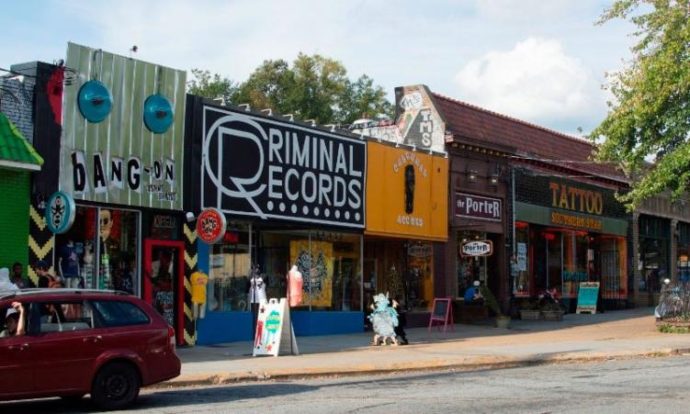 2. Indulge in bottomless mimosas for brunch.
There's nothing like waking up the next morning from dancing all night and craving a mimosa. Luckily for you, there is a plethora of restaurants scattered across Atlanta that offer unlimited mimosas OR bloody mary's! Check out this article from the Eater featuring restaurants all over the city. 
3. Get immersed under the water at the Georgia Aquarium.
The Georgia Aquarium is definitely an attraction that you are going to do want to do if you have an extra day in Atlanta! This aquarium is the largest one in the western hemisphere and features whale sharks, belugas, and dolphins.
Online, you can find special discounts and rates which make visiting much more affordable. Visiting during the week (Monday-Friday) is obviously going to be more affordable than visiting during the weekend. The experience is completely worth it!
4. Check out the vibrant shops and restaurants in the historic [building of] Ponce City Market.
In the Central Food Hall, artisan chefs and local purveyors fill an authentic market with the design, food, and flavors of Atlanta. Food-wise, be sure to check out Atlanta's only edible cookie dough shop, plus countless other main meal options (burgers, fried chicken, tacos, etc). Inside, the market also has a couple of drinking choices including a beer garden and a tap station!
If shopping is your thing, view the store directory list here to see if something tickles your fancy. This option is great for a potentially rainy day!

5. Rent a bike and check out Atlanta via the Atlanta BeltLine.
An outdoor lovers treat! Atlanta Bicycle Barn, located conveniently along the route, offers bike rentals – perfect for those visiting. Along the BeltLine is a plethora of art installations created by Atlanta locals, plus awesome restaurants. Many of the restaurants offer walk-up options for you to place an order on the go! Ponce City Market is also located on the route (see above) and offers diverse selections.
The BeltLine slogan is "Where Atlanta Comes Together," and that couldn't be any more true. Atlanta's Southern hospitality shines as strangers becomes friends exploring the city together. View the Beltline website here. 
Take advantage of all this and more while in the city for Shaky Beats Music Festival!