A rebel, a feminist icon, and a psychedelic visionary.
Yayoi Kusama, 88, is one of most highly regarded artists in the world. But it wasn't always that way. Like many great artists, Kusama's origins are quite humble. She was born in 1929, in a somewhat small city in the central region of Japan's main island, Honshu. Throughout childhood, her home life wasn't exactly picture perfect, as it was significantly influenced by sites and sounds World War II.
"Our earth is only one polka dot among a million stars in the cosmos. Polka dots are a way to infinity." –Yayoi Kusama
At age 10, she began experiencing hallucinations, which were comprised of "flashes of light, auras, or dense fields of dots," says Kusama in an interview earlier this year. She often saw these patterns coming to life, and engulfing or expunging her, a feeling that she has allowed to fuel her artistic career.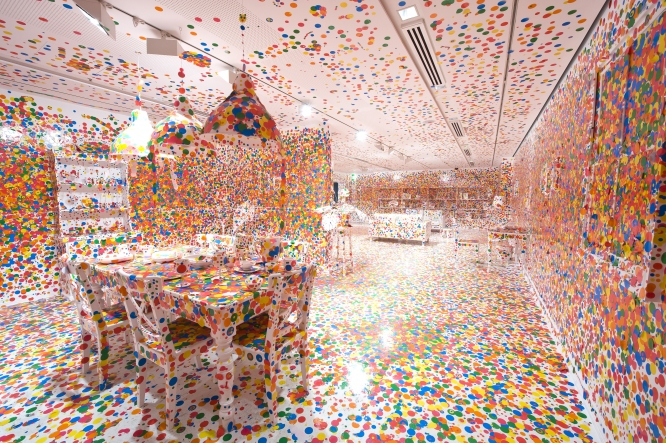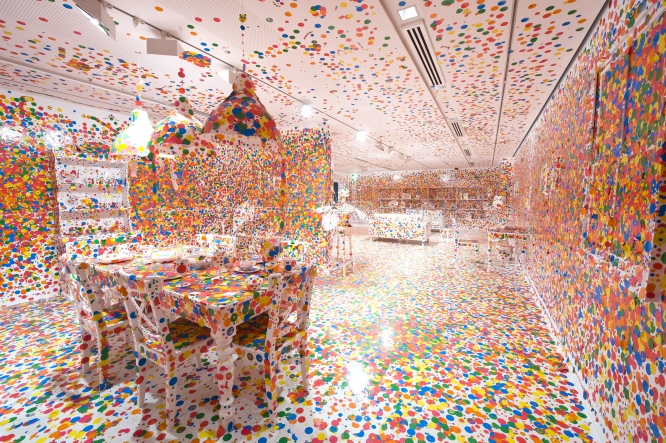 She began creating art at a very early age and later began writing poetry at age 18. She later went on to study Nihonga, a style of Japanese art that is over a millennia old, at the Kyoto Municipal School of Arts and Crafts. Frustrated by the traditional nature of Nihonga, Kusama shifted her interest to European and American avant-garde, where she finally found her niche. Leaving Japan at age 27, with prior artistic stays in Tokyo and France under her belt, she made her way to New York City. Her move to New York was partially inspired by correspondence with fellow renowned female artist, Georgia O'Keefe. And, soon enough, Kusama was widely considered to be a leader in the avant-garde movement in New York.
Around 1963, she began her Mirror/Infinity rooms, which have become her most well known works to date. Inside these complex installations, walls are lined with mirrored glass, and neon orbs were hung at varying heights, the repeated reflections giving the viewer the sensation of staring into eternity. Throughout the years, certain aspects of the displays have evolved, such as size and complexity of production, while maintaining its consistent authenticity.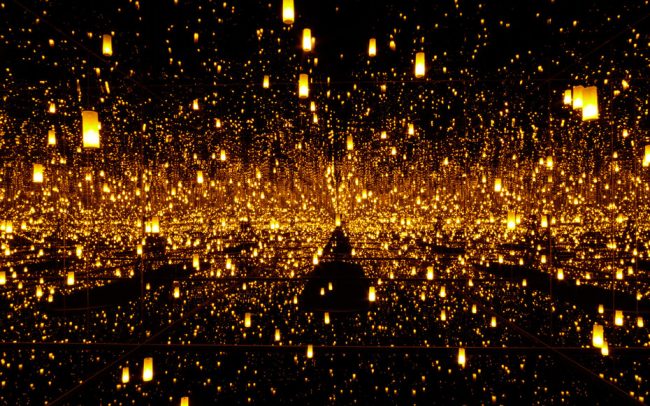 She counted notable artists such as Donald Judd and Eva Hesse amongst her friends and supporters. But, interestingly, despite her rhythm of productivity–which she maintains to this day–Kusama did not profit financially from her work in the 1960s. Outside her formal work, Kusama famously organized a few outlandish happenings (now dubbed "performance art") in landmark locations, such as Central Park and the Brooklyn Bridge, which often involved nudity or protested the Vietnam War. In 1969, Kusama organized a public event in which she painted polka dots on naked performers in the sculpture garden of the Museum of Modern Art during the Grand Orgy To Awaken the Dead.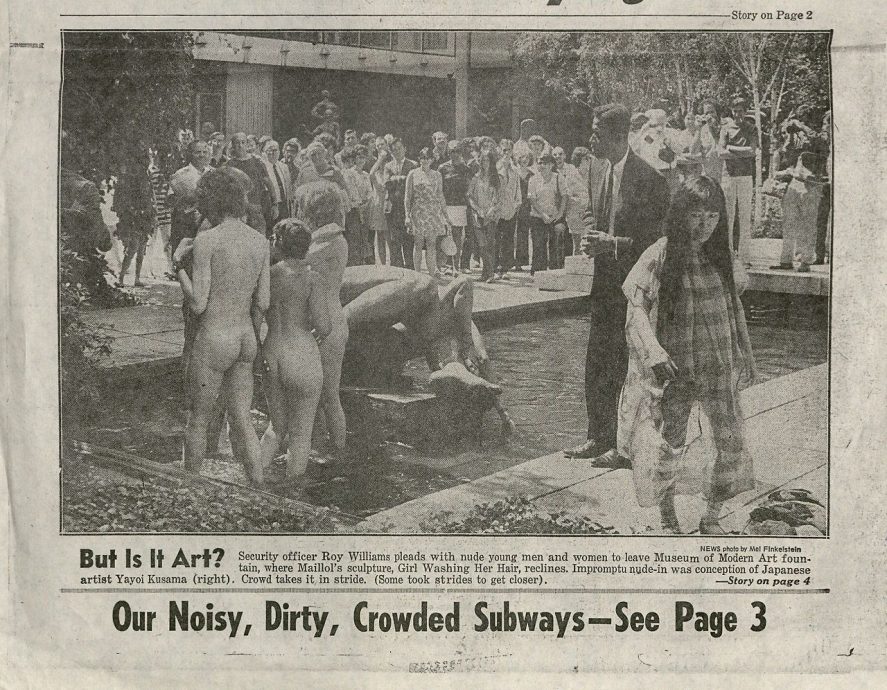 Things took a turn in 1973, however, when Kusama returned to Japan due to ill health. It was then that she began writing shocking and surreal novels, poems and short tales. For a short time, Kusama also worked as an art dealer, but her business folded after a few years. Then in 1977, she admitted herself to the Seiwa Hospital for the Mentally Ill in Shinjuku, Tokyo. And, she has chosen to reside there ever since. She continues to work in a studio not far from the hospital.
"If it were not for art, I would have killed myself a long time ago." –Yayoi Kusama
Kusama's work throughout 80's and 90's–most notably, her Infinity Nets series— is considered alongside the best of the abstract expressionist movement, with artists like Mark Rothko and Jackson Pollock. In recent years, she has concentrated on the creation of her rooms, after experiencing much success with the displays in high-profile venues around the globe.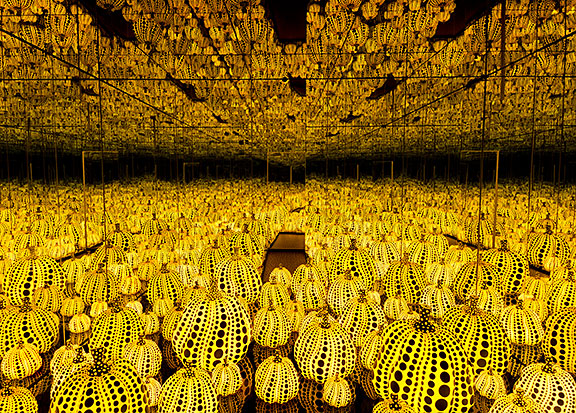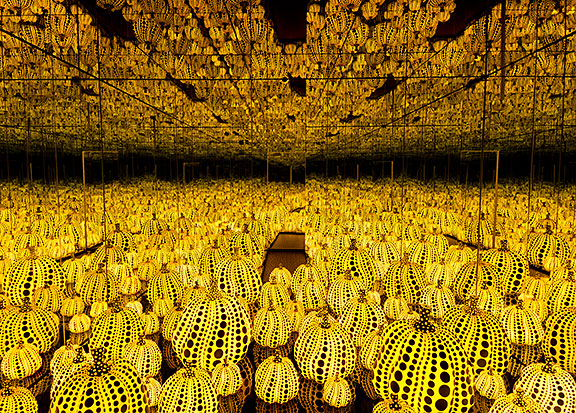 Nine decades later, Kusama has harkened back to some of her earlier mediums of painting and drawing while maintaining the distinctly unique and multi-disciplinary nature that defined her career. At the start of 2017, a massive 50-year retrospective exhibit of her work opened at the Hirshhorn Museum in Washington D.C., and is the largest retrospective of the artist's career thus far. The exhibit, dubbed Infinity Mirrors, features six rooms created by Kusama herself, each a completely different world in itself.
The exhibit is one of the most popular in the museum's history, attracting thousands upon thousands of visitors since its opening. It will be traveling to five different museums in the U.S. and Canada throughout the next two years. If interested, you can learn more here.
Featured image by Go Itami.