After pushing the boundaries of his sound in his debut album Falling, Kansas City-based producer VALENTINE hits the road in support of his forthcoming EP Introspection.
VALENTINE's debut concept album Falling, released this past September on Majestic Casual, stunned fans and fellow producers with prodigious collaborations and a fully interactive website tying the vision for his virtual world together. In an exclusive interview, River Beats dives into the evolution of VALENTINE's sound, his upcoming Introspection tour, and more.
Your debut album Falling is an incredibly diverse project full of collaborations and experimentation into different styles. What was your journey up to the creation of Falling and what inspired the concept of the album itself?
---
"The album is inspired by my relationship with my fiancee Catherine and my life experiences. I started just writing music about my life, and like four or five songs in I was like, 'Well I should just make an album out of this and tell a story with it.'
I definitely 'fell' a lot during the album, that is to say, I learned a lot along the way with coordinating the collaborations and stuff; it was definitely a learning process for me."
Listen to VALENTINE's debut album Falling below
How did the artists WITH WHOM you collaborated challenge you to push the boundaries of your sound?
---
"Their own individuality with their own sound pushed me outside the box with each track. Everyone I collaborate with challenges me to make more diverse music.
I think the one thing the album taught me with all these collaborations is that I need to get outside of my comfort zone to further my music. The best thing to do to get truly original ideas is to get away from what you know; ditching a plug-in that you've really grown attached to, writing in a strange time signature, things like that.
That's the whole idea of the beat challenges I do on my Discord server; whoever is online and wants to participate, we set parameters for the demos we're about to make and we have an hour to make the best thing we can. So yeah, the album and collaborating have taught me above all else that I won't learn and grow unless I'm uncomfortable and I'm constantly pushing myself."
You made your singing debut on Falling and also mentioned on Twitter that you'll be singing on all your upcoming releases. Why did you choose to start singing on your own songs?
---
"For a long time, I sang in school for choir and I did a lot of theater, and even though I had all that experience, with the mentality of the SoundCloud producer I was relying heavily on the production side of things and sound design to tell the story, and I've learned so much through that. But writing lyrics has been a great alternative way to express myself and give my music a voice and convey my voice to my listeners. Since I've taken it up, it's a whole new set of tools I can use to tell my stories. There are so many different ways to approach songwriting and conveying emotions, and I feel like singing is just the next step for me in achieving the sound I want from myself."
You are also working on a new EP titled Introspection. How will your vision for that EP compare to Falling?
---
"Introspection is going to be a lot better; the length of time that Falling took to make and how much I've grown since putting Falling together has made me sort of sour and unhappy with my sound. Introspection has a lot of great, new ideas and works on the foundation I built with Falling, more original ideas I feel, and working with my own vocals definitely contributes to that.
I feel like I'm giving my audience a better insight into who I am with this new EP. Falling taught me a lot, but the ideas for my music flow more freely now and Introspection is the result, which is what a sophomore project should be."
You recently played a MASSIVE free online festival on Minecraft called 'Coalchella'. Can you tell us more about the virtual festival and how it came about?
---
"Coalchella was just a really fun project, and I think the best part about it was that it was just for fun and not some huge corporate entity like real-world music festivals. I just think it's really cool that we were able to put together a whole festival inside a popular video game. I did a lot of the command blocks for the server, a lot of the interactive experiences inside the world. I'm super excited to say we have a lot more in store on that front soon."
As far as IRL shows, you just announced your Introspection tour in support of your new EP, which kicks off in Chicago next week on October 26th and continues on to Los Angeles, Kansas City, and New York. You put together an all-star supporting lineup including Blake Skowron, Chuck Sutton, and umru just to name a few. What can fans expect from your live show?
---
"Expect me to sing. I still love DJing, I think it's silly to call it a live set if I'm just singing over my stuff, and I am most creative when I'm behind the decks. I didn't really write 'Introspection' with a live setup in mind and didn't really record any of the instruments live, I wrote everything on my laptop because that's true to who I am.
I'm trying to put on a show for the people in front of the stage rather than behind the stage; I'm not trying to prep an elaborate live setup with a bunch of controllers, I'm just trying to create a memorable experience for the showgoers and be myself with this tour."
From the collaborations on the album to the friends you're bringing on tour, it's apparent that the community plays an important role in your life. What are you most excited for as you and other artists in your realm continue to build momentum?
---
"I'm excited to continue living and having a good time with my friends. I'm blessed to have such amazing people around me who inspire me every day to make the best art possible. I guess I'm most excited for everyone's development as artists in the pursuit of happiness.
I feel like a lot of the SoundCloud community is pretty depressed right now, which comes with being creative, but I believe the experiences we gain as artists in creating things allows us to become better people. I'm stoked for the friends I have now, but I'm also excited for all the people I have yet to meet on this tour and beyond, and all the lessons I have yet to learn."
Stay tuned for the upcoming EP Introspection and be sure to check out VALENTINE's Introspection tour, which kicks off in Chicago on 10/26 and heads to LA, Kansas City, and New York later this fall.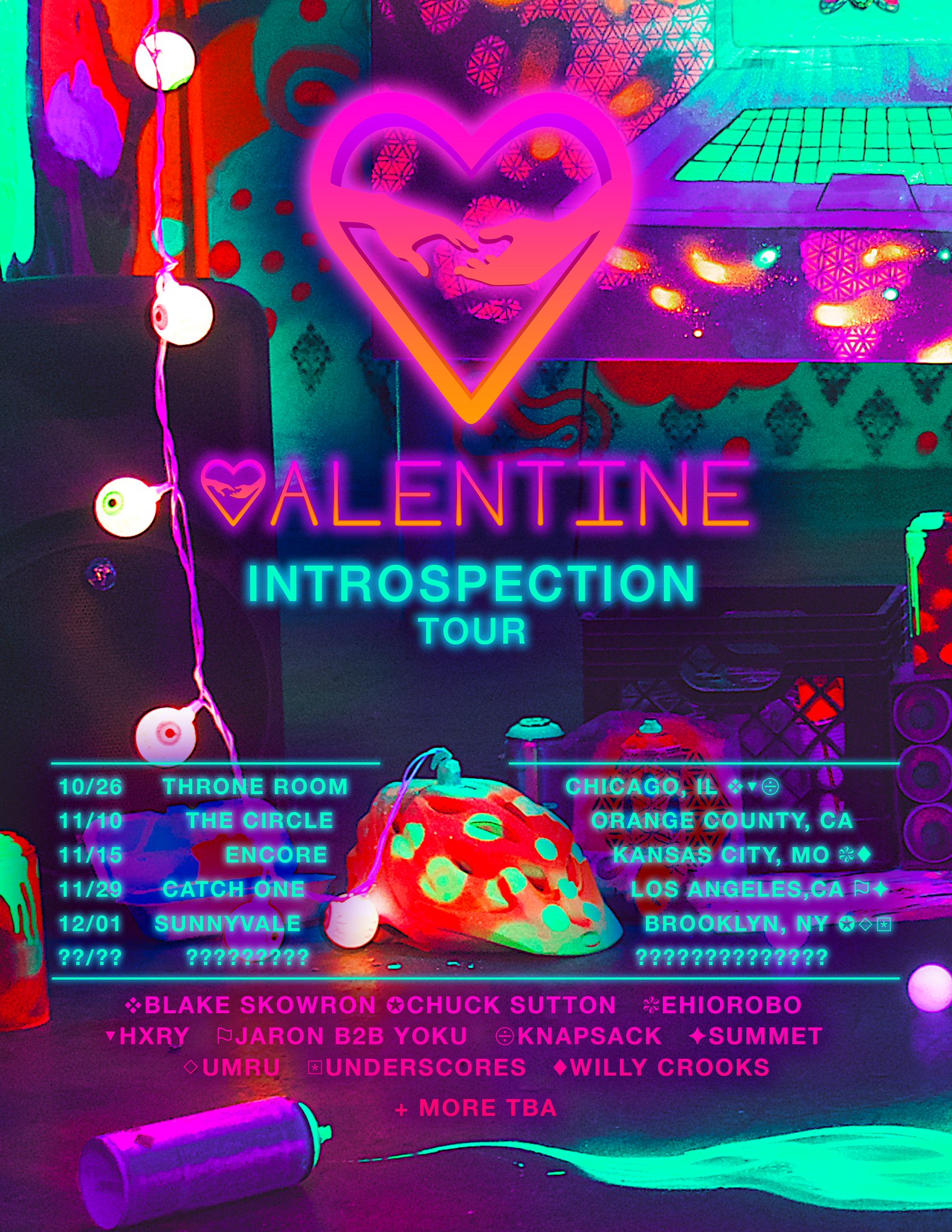 ---
Connect with VALENTINE: Soundcloud | Facebook | Twitter | Instagram
Featured image courtesy of VALENTINE.