The Oregon Eclipse global gathering at Big Summit Prairie for the 2017 total solar eclipse is set to be the event of a lifetime. Festivals from all over the world are participating in the multi-sensory experience including curated sound stages, art installations, and some of the most extraordinary workshops available. Not to mention the ideal viewing location for the total solar eclipse set to cross over on Monday, August 21. This particular eclipse will be the first one to pass from coast to coast in over 100 years, making it one of the biggest astronomical events of the decade.
Oregon Eclipse Global Gathering is made up of a conglomerate of worldwide festivals including Symbiosis (USA), Bass Coast (Canada), Envision (Costa Rica), Hadra (France), Lightning in a Bottle (USA), Origin (South Africa), Re:birth (Japan), and many others. Builders have already begun work at Big Summit Prairie for weeks to make sure the art installations are out of this world.
Here are 9 things we are putting on our Oregon Eclipse Bucket List and definitely recommend checking out!
#9: Glitter Ranch Saloon
The Glitter Ranch Saloon is the place to get your drink on! I am personally very excited to see what kind of creative cocktails these ranchers have come up with. Those who want to try these spirits can load up an Arrow Pass, a cash-free way to pay for drinks, and each day the Glitter Ranch Saloon will give you a free drink!
#8: The Lake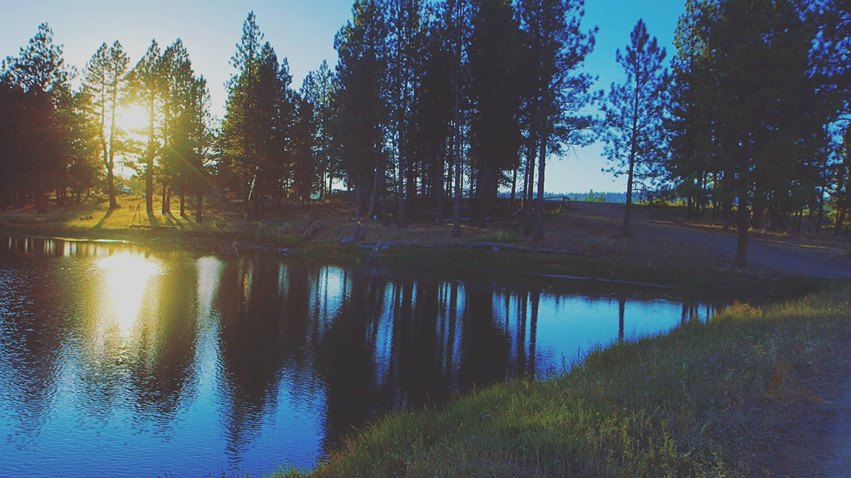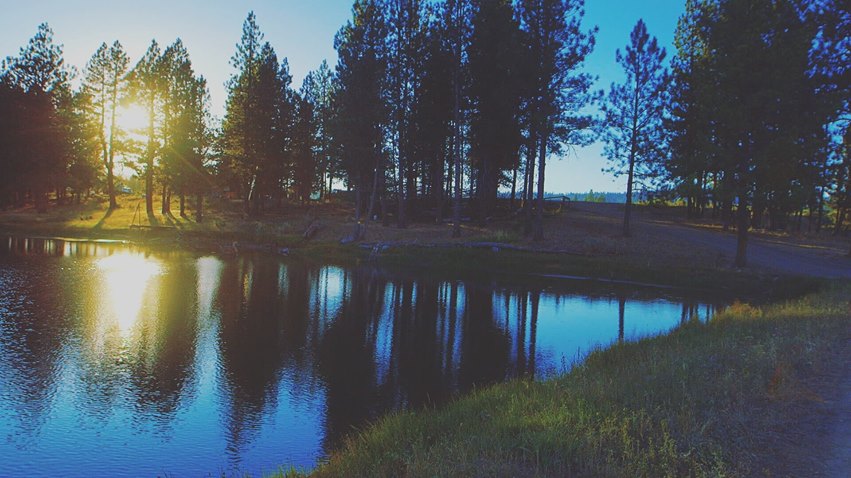 Perhaps one of the biggest drawing factors is the 52-acre lake Big Summit Prairie has to offer. Festival goers can swim, dance, and replenish to their delight anytime they need a refresher. While we definitely don't recommend using the lake as a substitute for a shower, sometimes water is just the elixir you need on a scorching hot day.
#7: Reddit Eclipsers Beer Exchange Meetup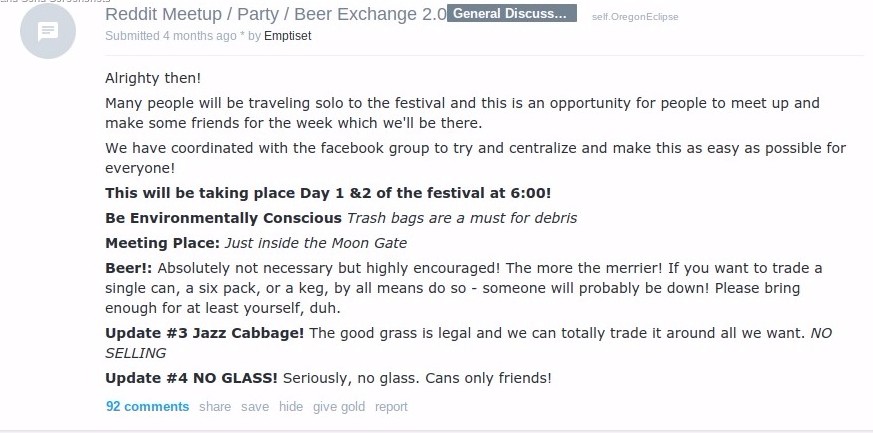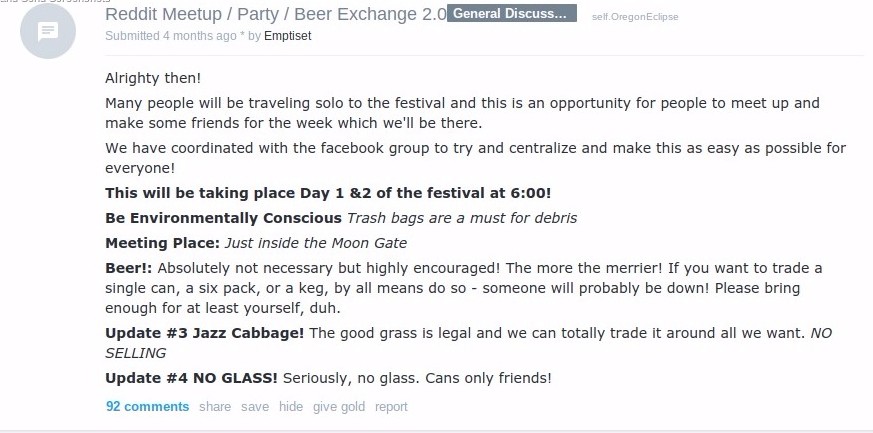 Are you a beer enthusiast and want to try beers from all over the country? Now's your chance. Some Redditors are hosting a Beer Exchange/Meetup going down at 6 pm for the first two days. Everyone is encouraged to bring something that is local to your state and remember: cans only! Here's the link for the Reddit thread. Cheers!
#6: Hot Air Balloon Rides
Yes, you heard right! Oregon Eclipse is offering 45-minute scenic trips for 5 in a hot air balloon. Your own personal guide will take you on a journey through the scenic Oregon landscape. Don't have an extra $300 something to dish out for this expenditure? You and your friends can also take tethered rides for 5-6 minutes in one place but floating 30-40 ft. off of the ground for $30 per person. Reserve your spot here.
#5: Wheel of Fortune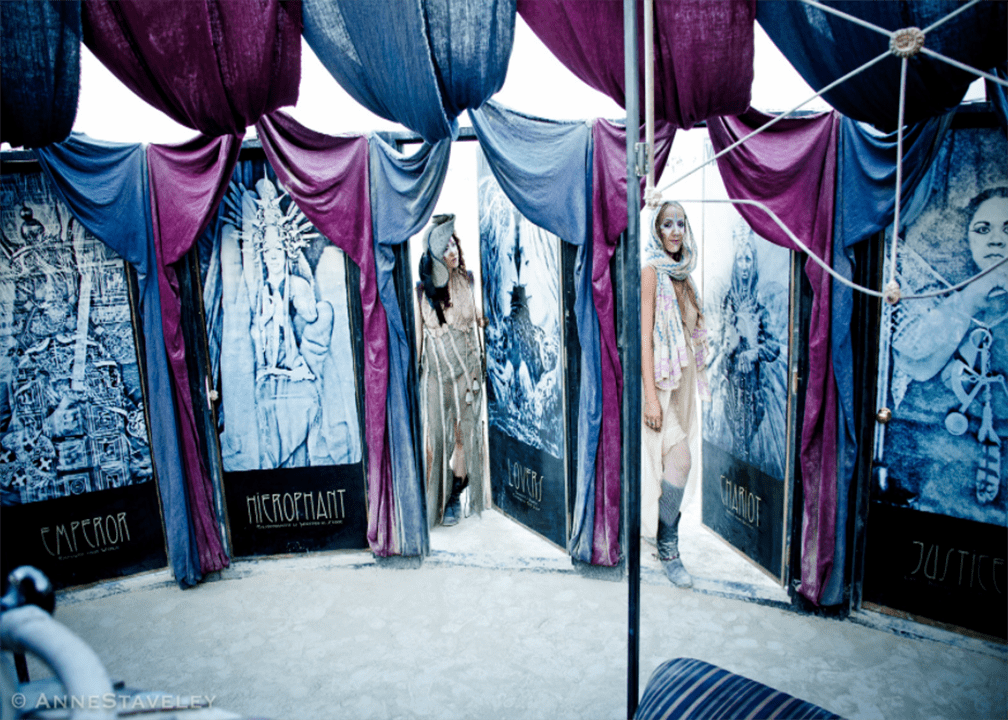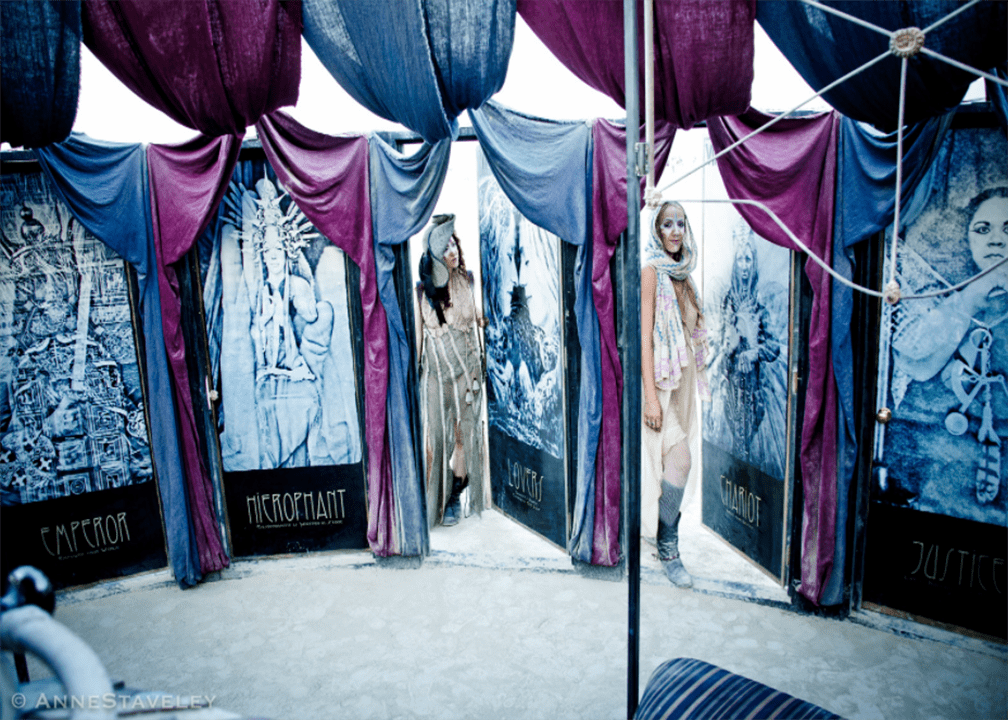 This immersive art installation is truly one of a kind. A circular structure with doors covering every inch, the Wheel of Fortune Tarot Project asks you to choose your fate, literally, by choosing a door. Each door has a Tarot card on the back of it and once inside you can co-mingle with other seekers of the beyond. A chill space and an opportunity for reflection await once inside the Wheel of Fortune.
#4: Kailash Kokopelli Sound Healing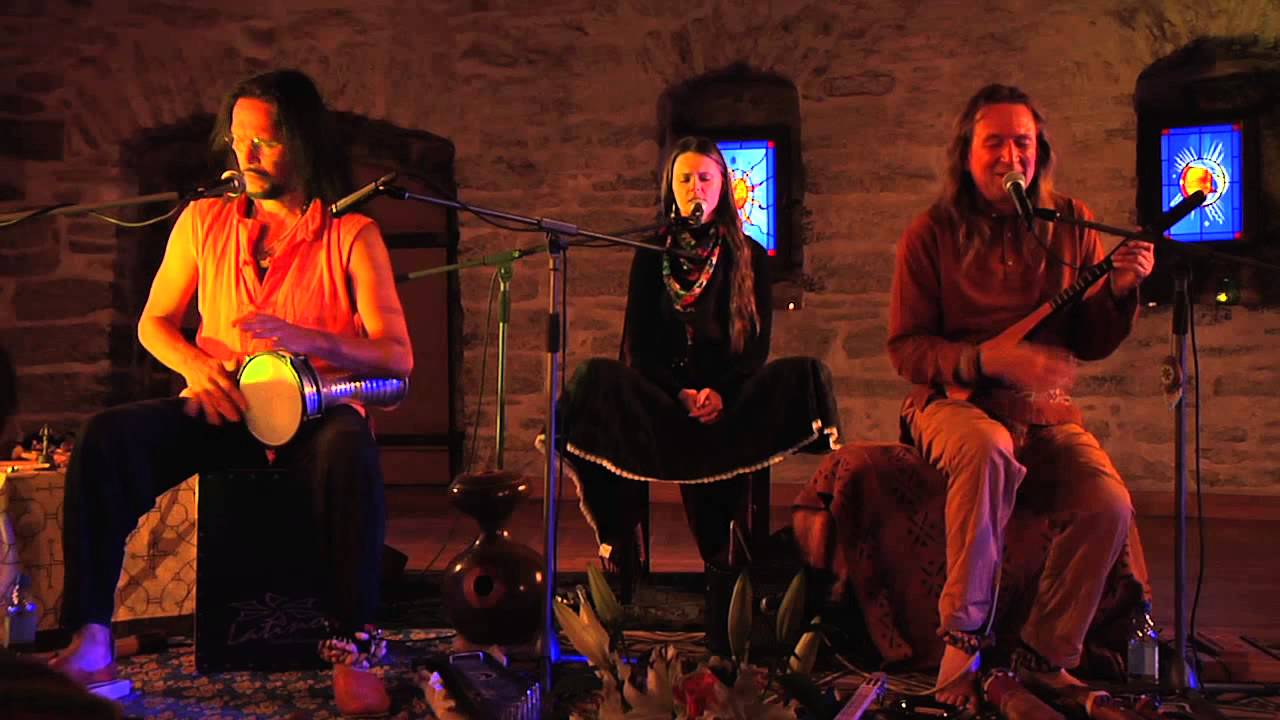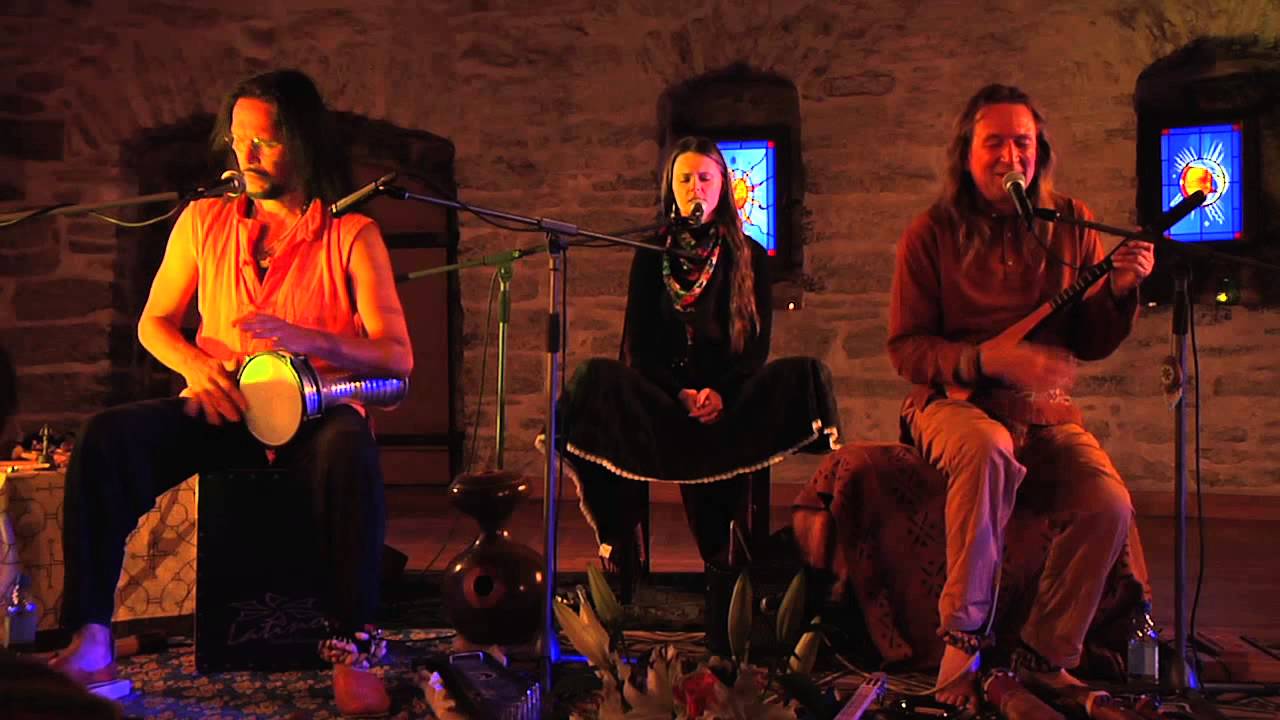 In the Wellness Oasis, there will be healing workshops offered on many different subjects including Thai Yoga Massage, Reiki, Astronomy, Herbal Healing, and of course, Sound Therapy. One workshop that stood out, in particular, is the multi-instrumental sound healing performed by Kailash Kokopelli. During this special concert, Kokopelli will draw in self-healing techniques by use of medicine drums and Native American prayer flutes.
#3: Live Art by Alex and Allyson Grey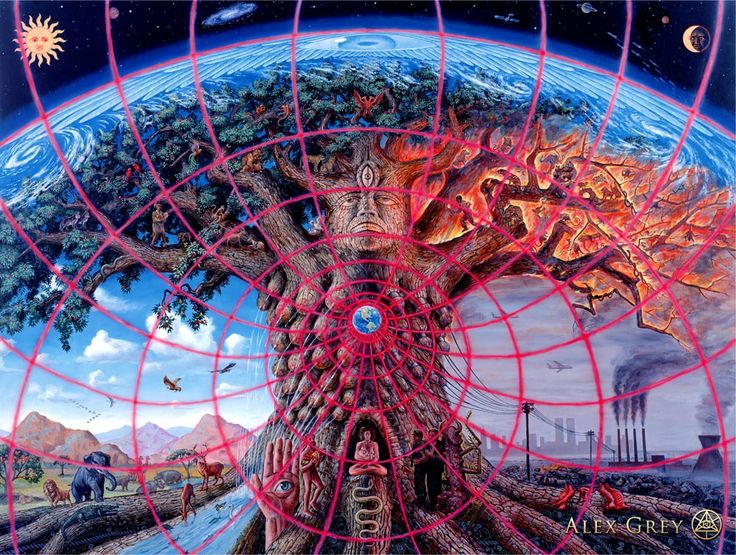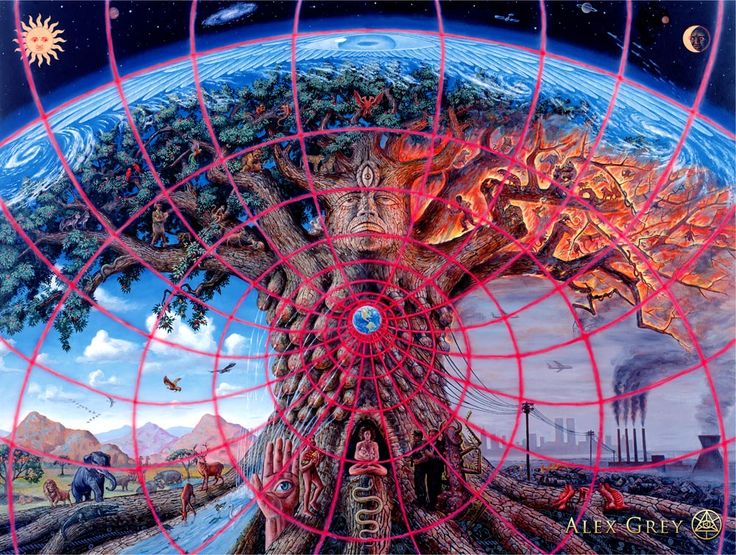 A rare and incredible treat, festival goers will have the opportunity to see live painting by Alex and Allyson Grey. Two of the most innovative painters of our time, Alex and Allyson Grey have made some incredible headway in the expertise of psychedelic and experimental art. Their greatest co-project, the Chapel of Sacred Mirrors, has become one of the must-see art installations of this generation.
#2: Shrines to the Cosmos Immersive Experience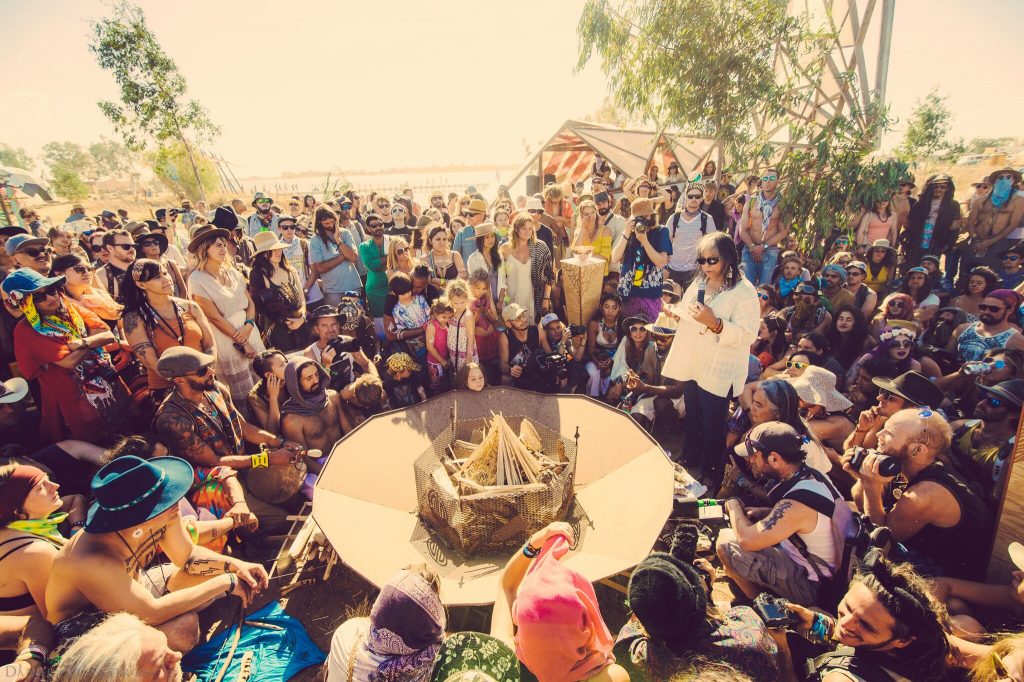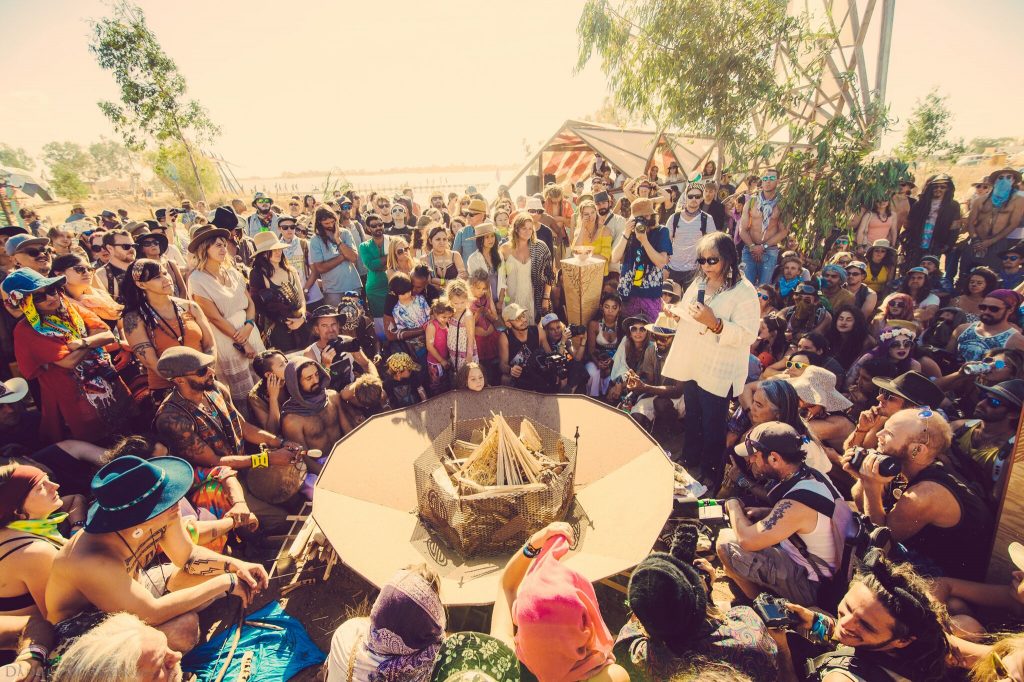 Created by Living Village Culture, this elemental shrine is for creative reflection and spiritual growth within the festival. The site of the Global Gathering's opening and closing ceremonies as well as the source for group immersive talks and experiences curated by the Eclipse Family. Looking for good vibes and a spiritual experience? Stop by the Shrines to the Cosmos for Sun, Moon, and Earth and receive your daily dose of growth.
#1: Total Solar Eclipse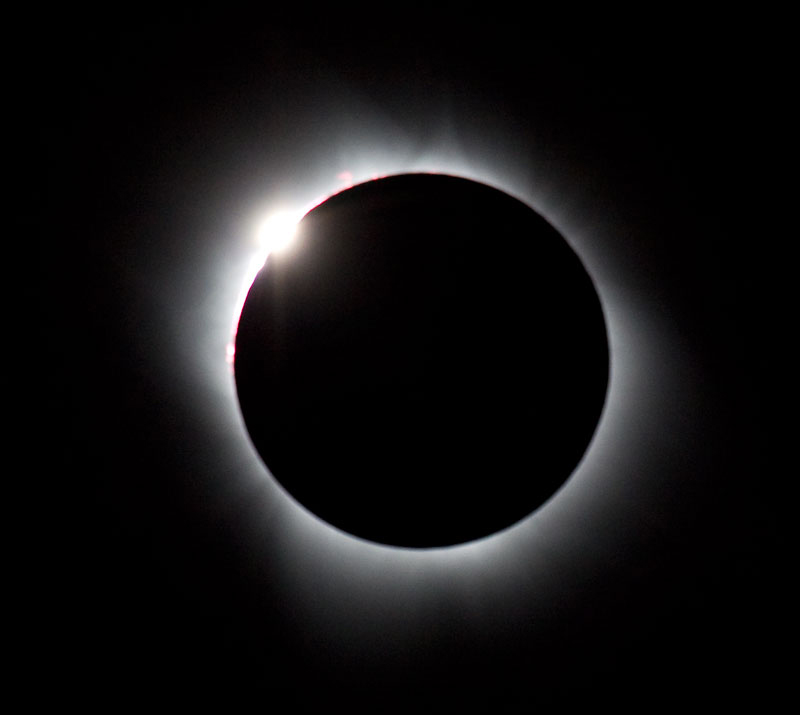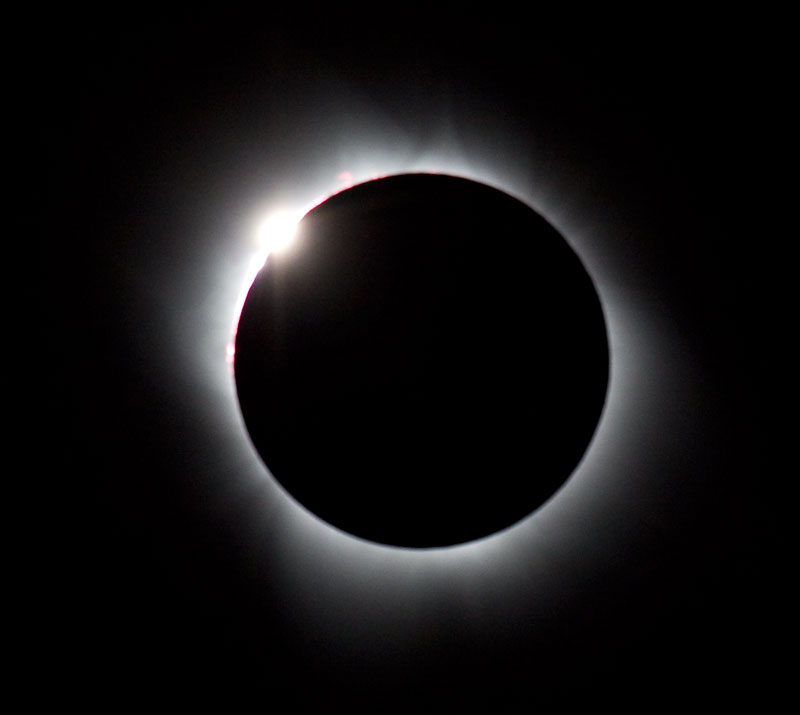 The main headliner is, of course, the total solar eclipse. On Monday, August 21 around 10 am, viewers will experience complete darkness during the period of totality. Glasses will be handed out for festival-goers to view the eclipse safely.
`
This is only the smallest taste of what there is to offer at Oregon Eclipse Global Gathering. For those of you making the journey to this once in a lifetime event, we can't wait to see you! Follow this link for more information on the lineup, location, and FAQ.