What was supposed to be announced later this week has been revealed much earlier with quite the fan-fare! Brownies & Lemonade, Los Angeles-based event curators that focuses on the cutting edge dance and hip-hop realm, have teamed up with Pollen Presents for a new inaugural experience, Lake Brownies & Lemonade, this August.
Taking over Lake Havasu on August 27-29, 2021, this 21+ only event will feature performances by Baauer, Snakehips, Whethan, Moore Kismet, Pluko, and many more dance music all-stars. Peep the full lineup below.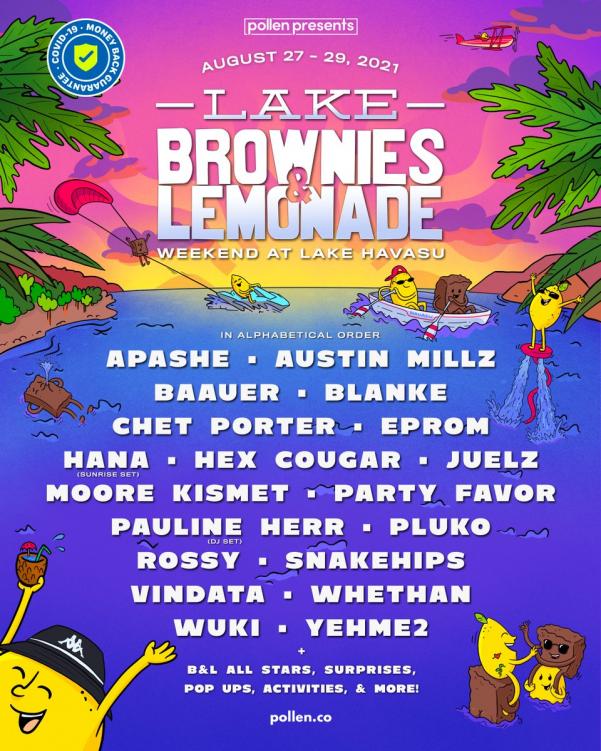 Party passes are available – which includes access to all events at Lake Brownies & Lemonade including parties, concerts, bonfires, and lake activities. Hotel accommodations not included.
The two-night limited capacity will be Brownies & Lemonade first ever takeover weekend event. With complimentary day parties and after-hours bonfires on the horizon, this event is sure to be one you don't want to miss. Guests will make the Nautical Beachfront Resort their home for the weekend, as the only lakefront hotel in Havasu treats them to their very own private beach, access to a remote party island, infinity pool views and even a swim-up bar.
---
About Brownies & Lemonade
One of Los Angeles' premier event brands, Brownies & Lemonade focuses on scouting the most cutting edge artists in electronic and cutting edge music. Having cut their teeth throwing secret warehouse shows around Los Angeles, the B&L team has gone on to work with some of the biggest names in the music industry, in addition to discovering and supporting  the future  of top-tier, club ready talent. Brownies & Lemonade  has activated showcases and stages at some of the world's biggest events, including Coachella, SXSW, EDC, Lollapalooza, Ultra Miami, and HARD Summer, in addition to international tours through Australia and Japan.
About Pollen
Pollen is a leading travel company building, curating, and delivering the best experiences for members all over the world. Members enjoy these experiences together with the people they love, creating stronger relationships and unforgettable memories. Members immerse themselves in multi-day itineraries that combine live entertainment, parties, and relaxation time in more than 50 popular destinations. Members can discover and book these experiences exclusively on pollen.co and the Pollen app. Pollen has already launched bespoke mini-breaks with mega stars like J Balvin, Marshawn Lynch and Ozuna.
---
Featured image from resort @ Nautical Beachfront Resort in Lake Havasu.